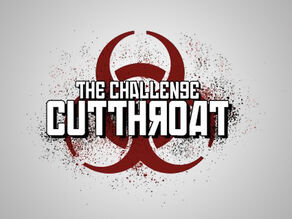 Cutthroat is the 20th season of the MTV reality game show, The Challenge. The season is directly subsequent to Fresh Meat II. To date, Cutthroat is the only season besides the Fresh Meat Challenges that has introduced previously unknown contestants who've never appeared on either The Real World or Road Rules (a trademark of and originated by the Fresh Meat Challenges).
Filmed in Prague, Czech Republic, Cutthroat features a first-ever three-team format, with cast members from The Real World, Road Rules, Fresh Meat, Fresh Meat II and Spring Break Challenge all competing. The season premiered on Wednesday, October 6, 2010, and concluded with the "S#!% They Should Have Shown" special on December 22, 2010.
This season of The Challenge features a brand new format, consisting of three teams – Red vs. Blue vs. Grey. A race to the "Gulag" was held to determine the selections of the teams. The three players that finished last in the race — Camila Nakagawa (Spring Break Challenge), Shauvon Torres (RW: Sydney) and Emilee Fitzpatrick (RW: Cancun) — were chosen as the team captains. Those three selected players, alternating between male and female, until each team was split evenly — five men and five women on each team — see Cast and Draft sections below.[2]
The three teams will participate in numerous challenges, which are followed by an elimination challenge, known as the "Gulag." The team who wins a challenge will receive a cash prize of $20,000 to be banked in their team bank accounts, as well as winning immunity from the Gulag.
The two losing teams will then be forced to choose one player of each gender from their own teams for possible elimination. Each player will cast secret votes to decide which two men and two women will battle in same-gender Gulags. The winning players will rejoin their respective teams and stay in the game for a chance at a share of $120,000, while the losing players will be eliminated from the game.
In the event a vote is tied, a run-off vote is conducted. If the run-off does not resolve the tie, the player going into the Gulag from the opposing team selects any (same-sex) member of the other team to send to the Gulag.
Host: T. J. Lavin
Grey Team

| Player | Original Season | Finish |
| --- | --- | --- |
| Abram Boise | RR: South Pacific | Runner-Up |
| Cara Maria Sorbello | Fresh Meat II | Runner-Up |
| Laurel Stucky | Fresh Meat II | Runner-Up |
| Luke Wolfe | Fresh Meat II | Runner-Up |
| Sarah Rice | RW: Brooklyn | Runner-Up |
| Dan Walsh | RR: Viewers' Revenge | Episode 7 |
| Ayiiia Elizarraras | RW: Cancun | Episode 4 |
| Shauvon Torres | RW: Sydney | Episode 3 |
| Vinny Foti | Fresh Meat II | Episode 3 |
| JD Ordoñez | RW: Brooklyn | Episode 2 |

Blue Team

| Player | Original Season | Finish |
| --- | --- | --- |
| Emily Schromm | RW: D.C. | Third Place |
| Jenn Grijalva | RW: Denver | Third Place |
| Derrick Kosinski | RR: X-Treme | Episode 9/10 |
| Johnny Devenazio | RW: Key West | Episode 8/9 |
| Theresa Gonzalez | Fresh Meat II | Episode 8/9 |
| Katie Doyle | RR: The Quest | Episode 5 |
| Ty Ruff | RW: D.C. | Episode 5 |
| Eric Banks | Fresh Meat | Episode 4 |
| Derek Chavez | RW: Cancun | Episode 1 |
| Emilee Fitzpatrick | RW: Cancun | Episode 1 |
Note: Chris "CT" Tamburello (RW: Paris) and Tina Barta (RR: South Pacific) were brought into the competition at the end of Episode 8 to compete in the Gulag.
Ad blocker interference detected!
Wikia is a free-to-use site that makes money from advertising. We have a modified experience for viewers using ad blockers

Wikia is not accessible if you've made further modifications. Remove the custom ad blocker rule(s) and the page will load as expected.