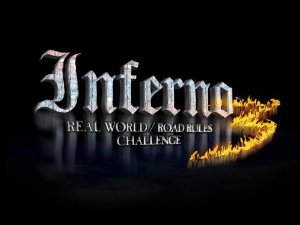 The Inferno 3 is the 14th season of the MTV reality game show, The Challenge (though at the time, known as Real World/Road Rules Challenge). The season is directly subsequent to The Duel.
The Inferno 3 marked the show's first trilogy, the third of the Inferno series, continuing on from The Inferno (8th season) and The Inferno II (10th season). Filming took place in Cape Town, South Africa, with cast members from The Real World, Road Rules and the Fresh Meat challenge competing. The season premiered on Tuesday April 10, 2007 on MTV.
There were $400,000 in prizes.
The teams were in the format of The Inferno II, "Good Guys" versus "Bad Asses." Contrary to the previous Inferno shows, the Lifesaver competitions have been limited to gender only winners, as for the male Inferno days, only males will be able to win it and vice versa.
Host: T. J. Lavin
Bad Asses team

| Player | Original season | Finish |
| --- | --- | --- |
| Abram Boise | RR: South Pacific | Winner |
| Derrick Kosinsk | RR: X-Treme | Winner |
| Evelyn Smith | Fresh Meat | Winner |
| Janelle Casanave | RW: Key West | Winner |
| Kenny Santucci | Fresh Meat | Winner |
| Tonya Cooley | RW: Chicago | Winner |
| Aneesa Ferreira | RW: Chicago | Episode 15 |
| Jenn Grijalva | RW: Denver | Episode 12 |
| Danny Jamieson | RW: Austin | Episode 6 |
| Tyrie Ballard | RW: Denver | Episode 2/3 |
| Chris "CT" Tamburello | RW: Paris | Episode 1 |
Memorable Moments
Edit
Timmy was disqualified for not breaking all of the pieces of glass completely in his Inferno with Abram. After losing to Abram, Timmy decides to retire from the challenges, joining Mike "The Miz" Mizanin, Eric Nies, and Mark Long to be the only people to "officially" retire from the challenges.
Before any challenges took place, CT was removed from the game for punching Davis. Derrick was brought in as CT's replacement.
Final Results
Edit
The Good Guys in the final challenge were Ace, Alton, Cara, John, Paula, and Susie.
The Bad Asses in the final challenge were Abram, Derrick, Evelyn, Janelle, Kenny, and Tonya.

Cara and Derrick are the only two finalists who did not win the Life-Shield at least once.

Bank Accounts

Bad Asses-$240,000
Good Guys-$60,000
The final challenge revolved around the idea of "the big five", which is a reference to the top five animals for hunting in the region. Contestant had to carry square tile puzzle pieces throughout the entire mission, accumulating more pieces along the way to complete bigger puzzles, each being a picture of an animal. In the end, the Bad Asses emerged victorious. Defeating the Good Guys, Derrick Kosinski and Tonya Cooley finally took home their first win. Kosinski and Cooley participated in five prior challenges, two of which Kosinski was eliminated the day before the final challenge and one where Cooley was in the finals only.